Your FREE underwater photography magazine
You're not logged in! Just click the link below to login or to sign up for your free UwP magazine.
Login or sign up for free Back
UwP69 · Nov/Dec 2012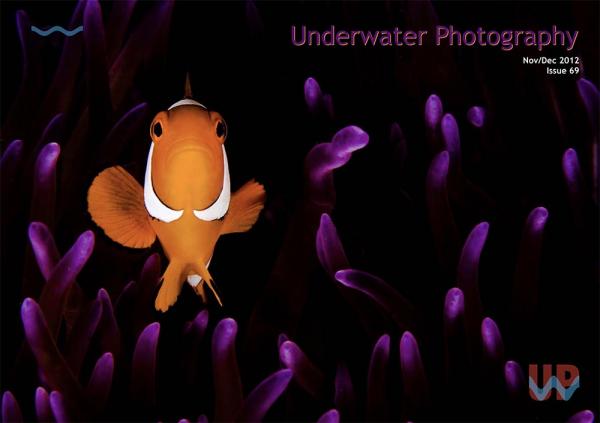 Editorial
News, Travel & Events
Magical Palau with Scuba Symphony
Cary Yanny Photography Workshops South Africa & Mozambique
The secret side of the Caribbean with Nick and Caroline Robertson Brown
Philippines with Chris Parsons & Phil Rudin
Beneath the Sea 2013 Imaging Competition
2013 Wetpixel Raja Ampat Entrance Tag competition winner
Gulrukh Khan award
Celebrate the Sea Call for Entries 2012
Amazing Diving Stories By John Bantin
Diving & Snorkelling Guide to Thailand by Frank Schneider
Telegraph Adventure Travel Show Olympia, London
Sea of Cortez with Alex Tattersall
New Products
Ikelite Nikon D600
Subal ND800 for Nikon D800
Zen Underwater Support for the Olympus PT-EP08 Housing
GoPro Hero 3
Nikonos RS lens conversion update
Best underwater compact cameras 2012 review from Backscatter
Subal ND4 for the Nikon D4
INON UWL-S100 ZM80 Wide Conversion Lens
INON Accessories for Canon WP-DC45
INON LE350
Backscatter to distribute Olympus underwater products in North America and the Caribbean
New Ultralight Control Systems AD-HS adaptor
Sea & Sea Nikon D800 housing
Aqua Fototeam INON accessories
Nauticam NA-650D for the Canon EOS Rebel
Nauticam NA-LX7 for the Panasonic LX7
Xit 404 Tripod Brackets
Novasub P&T-C-01
Pan and Tilt unit
Hydroflex Red One Deep
Acquapazza APSG-DP2M for the Sigma DP2 Merrill
Splash housings
Nikon WP-N1 for 1 J1 & 2
Epic Elite video housing
Nudibranchs of the Pacific Northwest calendar
Product reviews
Olympus 60mm macro by Phil Rudin
Sea & Sea YS-D1 strobe By Phil Rudin
Hugyfot is king by Michael Gallagher
Competitions
Locations
Britain 20-12 by Jason Gregory
Rock Pools by Mark Webster
Cenderawasih by Chris Mitchell
Destin, Florida by Jim Garin
Technology
Going electronic by Chris Mitchell
You're not logged in! Just click the link below to login or to sign up for your free UwP magazine.
Please support our advertisers to keep UwP free.