Your FREE underwater photography magazine
You're not logged in! Just click the link below to login or to sign up for your free UwP magazine.
Login or sign up for free Back
UwP126 · May/Jun 2022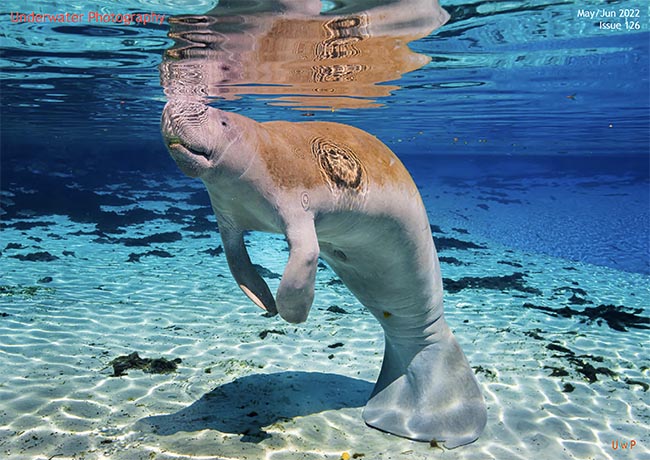 Editorial
Remote technology, Simple cameras, Freshwater, Traveling again and PS Mailing list
News Travel & Events
Sali Bay Resort, South Halmahera
Finding threshers in the Philippines
Engbretson Underwater Photography
USPS Eugenie Clark stamp
Underwater Tribe Advanced Photo Course, Bali
Learn to create incredible Underwater Pictures Online!
Reef Photo Blue Heron Bridge workshops 2022
Call for Entries: SDUFEX 2022
Baja Mexico Dive Safari including
Magdalena Bay for Striped Marlin
Solomon Islands – Bilikiki
New Products
Aquatica AZ6/7 II housing for the Nikon Z6 II & Z7 II
Nauticam NA-OM1 Housing for Olympus OM-1
AOI Olympus OM-D E-M1 II & III Housing UH-EM1III
Pictures in pitch black: The Duovox Mate Pro
Remote Controllable Keldan 8XR 20000lm CRI86
Hugyfot housing for Nikon Z6/7
Seacam Ninja V Housing
Sea&Sea vacuum leak detection system
Nauticam NA-E2F Underwater Cinema Housing for Z CAM E2-S6/F6/F8 Cinema Camera
Seacam housing for the Nikon Z6 II and Z7 II
Ikelite housing for the Panasonic LUMIX GH6
How To Assemble a Complete Ikelite Underwater Camera System
Equipment reviews
Nikon Z7 II underwater by The Backscatter Team
Backscatter color filters by Phil Rudin
My favourite GoPro set up by Matthias Lebo
Technology
Finding Endurance by Dr John Shears & Mensun Bound
Tagging whales by Malek Murison
Interview
Chat Shot - Antihero by Tony Myshlyaev & Henley Spiers
Locations
Sali Kecil by Anita Verde & Peter Marshall
A week in the Maldives by Peishan Tan
My Shot
by Eric Engbretson
Marine biology
Marshall's Mysteries 3 by Colin Marshall
Parting Shot
by Peter Rowlands
You're not logged in! Just click the link below to login or to sign up for your free UwP magazine.
Please support our advertisers to keep UwP free.