Your FREE underwater photography magazine
Underwater Photography Magazine
UwP is published every two months and every great issue is packed with all the latest underwater photo equipment news, reviews, dive site reports, personality profiles and photo portfolios, plus tips for better pictures, making it the essential read for all underwater photographers, everywhere.
You're not logged in! Just click the link below to login or to sign up for your free UwP magazine.
UwP115 · July/Aug 2020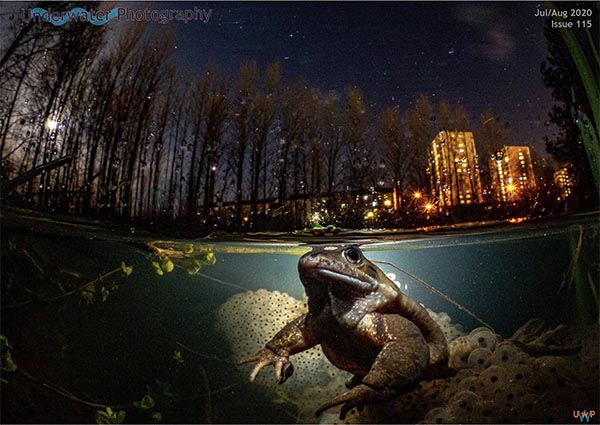 Editorial
DEMA, Backyard surprise, Olympus RIP? Covid & the new normal
News Travel & Events
Manta Ray Bay Resort & Yap Divers Giving Free Vacations to Frontline Healthcare Workers
Marlin Hunt with Henley Spiers
DEMA Show 2020 in New Orleans cancelled
Smithsonian 18th Annual Photo Contest
A time for adventures closer to home!?
New Products
Aquatica Z Cam housing
Nauticam NA-2020 housing for Sony A9II/A7RIV
Ikelite 200DL Underwater Housing for Canon EOS 850D Rebel T8i, Kiss X10i DSLR
Sea & Sea Optical Dome Port II
Ikelite 200DL Underwater Housing for Fujifilm X-T4
Balanzza Mini USB Premium Luggage Scale
Nauticam EMWL
Nauticam NA-1DXIII housing for
Canon 1DX Mark III
Backscatter's Free Live Q&A Seminars
Nauticam NA-EM1III Housing for Olympus OM-D EM1 III
Isotta Nikon Z 7/6 housing
AquaTech housing for Hasselblad X1D II 50C
Sam the Clam by Lindsey Dougherty
Competitions
Underbathwater Photographer of the Year competition by Jim Standing
Smithsonian winners
Equipment
Simply effective by Terry Crocker
Best buoyancy by the Backscatter team
Techniques
Doing the splits by Phil Rudin
Working with new models by Quico Abadal Ramon
My Backyard: Glasgow by Mark Kirkland
Marine life
Drifters by Mike Bartick
Bubble Cell divers by Andrey Ryanskiy
Artists
Life to art by Angela Webster and Elizabeth Solich
Parting Shots 1, 2 & 3 by Terry Crocker, Andrew Cummings and Richard Howes
'UP2' Supplement by Peter Rowlands
You're not logged in! Just click the link below to login or to sign up for your free UwP magazine.
Please support our advertisers to keep UwP free.