Your FREE underwater photography magazine
You're not logged in! Just click the link below to login or to sign up for your free UwP magazine.
Login or sign up for free Back
UwP40 · Jan/Feb 2008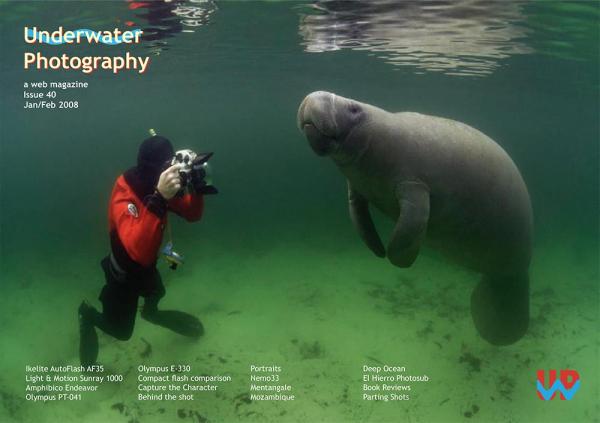 Editorial
News, Travel & Events
Destination Dominica webzine
OWU2008 and DEEP2008 Deadlines
Ocean Optics Open Day with Mark Webster
Wildlife Photographer of the Year Competition 2008
Kungkungan Bay Resort refurbishment
Three New Lonely Planet Books by Tim Rock
1000th Whale Shark Found
Manta Mania, Yap, Micronesia
Wrecks, Reef and Muck in Tulamben with Mark Webster
Ferraris at Kungkungan Bay
International Year of the Reef 2008
Aldabra with John Boyle
Alex Mustard's Red Sea Digital Photography Workshop
Shark Angels
New Products
Ikelite AutoFlash AF35
Sea & Sea TTL Converter III
Light and Motion Sunray 1000
Ocean Optics and Action Underwater Studios
Fantasea Nikon Coolpix S50 and S51 housing
Ultralight AC-CSL clamp
Aquatica Buoyancy Compensating Floats
Nexus INON 45 degree viewfinder
Amphibico Endeavor
New owners at Sealux
Gates XHA1/G1 Housing
Olympus PT-041 for Mju790 compact
New Yap Book by Tim Rock
A Divers Guide to the Art of Underwater Photography
Equipment Reviews
Going Live - The Olympus E-330 by Rob Spray
Compact flash comparisons by Dan Bolt and Dan Hopkins
Techniques
Capture the Character by Mark Webster
Behind the shot by Martin Edge
Portraits by Erik Henchoze
Locations
Nemo33 - Dive another way by Michel Braunstein
Mantangale Melange, Philippines by Stan de la Cruz
Adventure Mozambique by Tim Rock
Gelatinous bonanza for the deep ocean beasts by Mario Lebrato
Book Reviews
H20 by Howard Schatz
American Waters by Alex Kirkbride
Competitions
Open Fotosub El Hierro 2007 with Linda Pitkin
Parting Shots
Parting Shot 1 by Simon Brown
Parting Shot 2 by David Fleetham
Parting Shot 3 by Mike Davidge
You're not logged in! Just click the link below to login or to sign up for your free UwP magazine.
Please support our advertisers to keep UwP free.