Your FREE underwater photography magazine
You're not logged in! Just click the link below to login or to sign up for your free UwP magazine.
Login or sign up for free Back
UwP132 · May/June 2023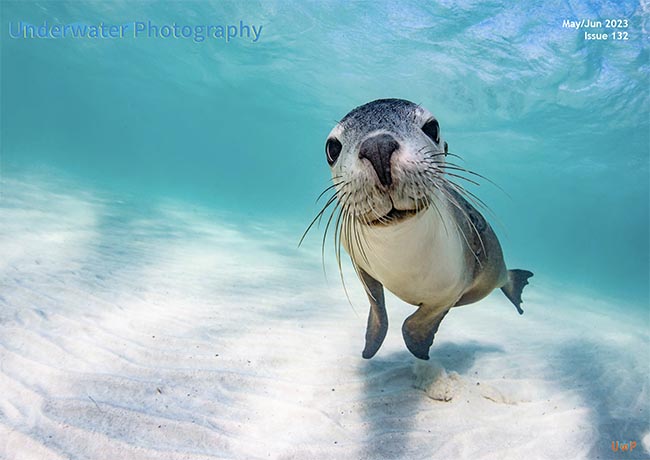 Editorial
Public appeal, Flipping, Wild Isles, AI
News, Travel & Events
Bunaken Oasis special offer: Stay for 7 nights only paying for 5 in June
Online Underwater Photography courses: The Underwater Club is live!
Learn Underwater Photography at Crystal Blue Resort
NEW Ghostnet Campaign T-Shirt - Large Back Print
Dive Galapagos with Josef Litt
Macro Mania in Lembeh with PanOcean Photo
Underwater Photography Basics – Perth Workshop with Emma Burdett
NAD-Lembeh Blackwater Diving
Photographing Crocodiles at Banco Chinchorro, Mexico
Great White Shark Australia with Amos Nachoum
New Products
Nauticam NA-R50 Housing for Canon EOS R50 Camera
Ikelite T-shirt
Sea&Sea YS-D3 MKII Lightning
15 Best Underwater Cameras in 2023
Nauticam housing for NA-S5II Housing for Panasonic S5 II/S5 IIX
OM System 90mm Macro Lens
Ikelite 200DLM Underwater Housing for Canon EOS R8
Saga Kouen screen magnifier
OM-D E-M1 Mark III & AOI UH-EM1III underwater housing special package
Marelux Ambassador Thomas Van Puymbroeck
Nauticam EMWL Reef Photo tutorial
Digital Underwater Photography, 40 Essential Knowledge by Pedro López Alegret
Equipment reviews
Sony FE 20-70mm by Phil Rudin
Sony A7R V by Jim Decker, CEO Backscatter
Accessorize by Phil Rudin
Exhibitions
UPY 2023 exhibition by Issy Arnett
Profile
"All too clear" by Yvonne Drebert & Zach Melnick
Jhon Henrino by Nicholas Kouvaras
Techniques
Shooting Portraits by Brooke Pyke
Panoramas by Martin Broen
Locations
Indonesian Cenotes by Nicholas Kouvaras
Yap by Charles Fenner
Marine life
Polyamorous Mandarins by Diggy Desai
My Shot
Marshall's Mysteries 9
Parting Shot
You're not logged in! Just click the link below to login or to sign up for your free UwP magazine.
Please support our advertisers to keep UwP free.