Your FREE underwater photography magazine
You're not logged in! Just click the link below to login or to sign up for your free UwP magazine.
Login or sign up for free Back
UwP130 · Jan/Feb 2023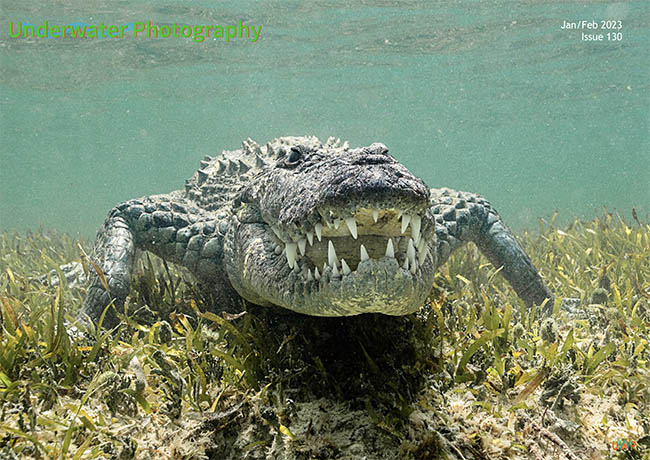 Editorial
Ball joint arm alternatives?, We are guinea pigs & UwP 2023 Survey
News, Travel & Events
North Carolina Wreck & Shark Shootout
with Mike Gerken
UPY entry date
closing soon (7th Jan!)
2023 Digital Shootout In Little Cayman
"Photographing Great White Sharks" by David Fleetham
San Diego Underwater Photographic Society (SDUPS)
New Products
Nauticam NA-A7RV housing for Sony a7R V and the Sony a7 IV
Backscatter Mini Flash 2
Marelux SOFT Pro snoot
Ewa-marine V102 housing for the Canon EOS C100
Ikelite housing for Canon EOS R10
Salted Line Fujifilm X-T4 housing
CB25 Revolution Backpack
Seacam Announces Housing for Nikon Z9
SCUBAJET NEO Underwater scooter
TURTLE 2 SMART triggers
SeaLife - 25 years of Memories from Another World
Inon UWL-95S wide conversion lens
Insta360 Pro & Pro2 VR 360 8K housing
Hands On With Reef: Nauticam Na-R5c
New Marine Titles! Coming soon
from Princeton University Press
Give the Gift of Photography
Escorted Freediving Holidays with Emma Farrell
Tropico del Mediterraneo by Enzo Troisi
Legends Beneath the Waves - Scandinavia by René B. Andersen and Andrew Marriott
Marine Biology in the Wild by Mike Scotland
Product reviews
Nauticam WACP-C by Phil Rudin
Isotta housing review by Nigel Marsh
Large diameter domes by Phil Rudin
Techniques
Freediving photography by Nicholas Kouvaras
Photographing crocodiles by Gregory Sweeney
Competitions
Judging UPY by Tobias Friedrich
Locations
Welcome back to travel by Paul 'Duxy' Duxfield
Freediving Gorontalo by Nicholas Kouvaras
Marine Biology
Marshall's Mysteries 7 by Colin Marshall
Parting Shot(s)
You're not logged in! Just click the link below to login or to sign up for your free UwP magazine.
Please support our advertisers to keep UwP free.