Your FREE underwater photography magazine
You're not logged in! Just click the link below to login or to sign up for your free UwP magazine.
Login or sign up for free Back
UwP129 · Nov/Dec 2022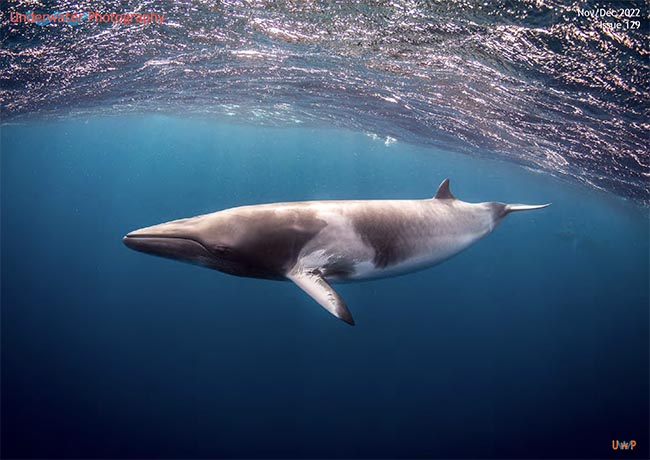 Editorial
I blame Nikon, Sony Alpha 7 series, A battery free wireless camera & Nauticam lenses
News, Travel & Events
UPY 2023. Searching for images to help Save Our Seas
Could you be Underwater Photographer of the Year 2023?
Anda, Philippines with Simon Rogerson, June 2023
Whale Sharks in Stereo for First Time
Wakatobi resort & liveaboard combo
Ocean Eye - Chasing the Beauty
Whalesharks in Mexico
Niue Island. Photo trip with PanOcean Photo & Travel
New Products
Nauticam EMWL
Nauticam NA-R7 housing for Canon EOS R5
Aquatica Year End Global Sale
SeaFrogs Sony ZV-1 Housing
WeeFine WED-5 underwater 5" HD LCD monitor
Anglerfish housing for Panasonic BGH1
Seacam housing for the Leica SL2/SL2-S
Ikelite Neoprene Cover for DL Compact 8-inch Dome Port
A message from Paralenz
AOI UCL-90PRO Close-Up lens
Kraken KRM07-2200 7" Ultra Bright Monitor
Zen Tripod Plate
Saga Folding Double Support
Red Sea Marine Life by Andrey Ryanskiy
Sea Lions of Los Islotes by Luke Inman
The World of Blackwater by Mike Bartick
Ocean: Exploring the Marine World
Nudibranch ID Guides in pdf
Competitions
BIUPC winners by Nick Watson
Product reviews
Nauticam EMWL system by Alex Mustard
Sony A7 IV by Jim Decker
Nauticam 0.8:1 finders by Phil Rudin
Battery free & wireless by Jeremy Gray
Marine Life
Minke whales by Matt Curnock
Tigers of Fuvahmulah by Saeed Rashid
Techniques
Blackwater Thailand by Alex Tyrell
Inward lighting by Massimo Franzese
Locations
Mexican Whalesharks by Dr Clare Preeble
Wakatobi House Reef by Walt Stearns
Book Review
Marshall's Mysteries 6
My Shot
Parting Shot
You're not logged in! Just click the link below to login or to sign up for your free UwP magazine.
Please support our advertisers to keep UwP free.