Your FREE underwater photography magazine
You're not logged in! Just click the link below to login or to sign up for your free UwP magazine.
Login or sign up for free Back
UwP113 · Mar/Apr 2020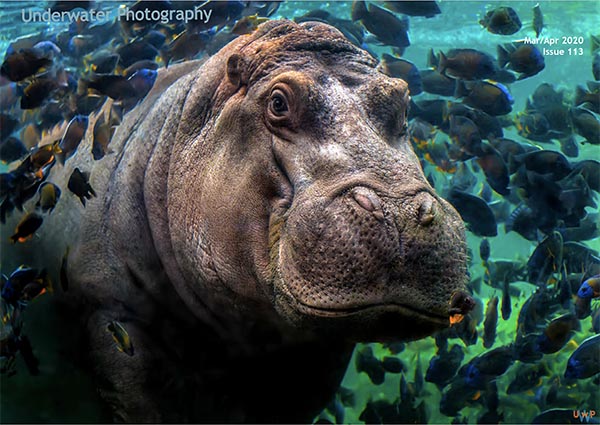 Editorial
My backyard, Trends in underwater images, UPY 2020
News Travel & Events
Red Sea Expedition
with Brandi Mueller and Tobias Friedrich
Paul 'Duxy' Duxfield in Lembeh and Manado
University of Miami Underwater Photo Contest
Lembeh Photo & Video Workshop
Lembeh vs Anilao Shootout 2020
Beneath the Sea 2020
2020 Two Fish Divers Underwater Photo Competition
Baja Mexico Dive Safari including Magdalena Bay for Striped Marlin
Shark-Cast. Our New Podcast!
Sea Shepherd California Clean Up
European native oyster (Ostrea edulis) image competition
2020 Digital Shootout In Bonaire
New Products
Ikelite housing for Nikon D780 DSLR
Nauticam NA-G7XMKIII Housing for Canon PowerShot G7X Mark III
New NANUK cases
X-2 Lanyard Plate R
Anti-Reflection Ring for Canon 18-55mm Lenses
INON Reinforce Ring for UW Tripod
SEALUX CD-Z7 for Nikon Z7,Z6
Hugyfot Vision XS Standalone 5" Monitor
Supreme 46d Ultra-Tough Waterproof Case
Nauticam WACP-2
INON Vacuum Leak Sensor
Axisgo 11/11pro Max Water Housing for iPhone 11 / 11 Pro Max
Nauticam NA-S1R housing for Panasonic Lumix S1/S1R
10Bar Dome Diffuser for Inon z240 Strobes
HPRC #2500 case with cubed foam
Ultramax UXDC16 Series
CineBags CB26 GoPro Bunker Laptop Carry Case
The Complex Lives of British Freshwater Fishes
Dive and Travel Cozumel
"Behind the Lens" by Francesco Pacienza
Competitions
UPY 2020 by Peter Rowlands
Ocean Art 2019 by Nirupam Nigam
Equipment reviews
Nikon Z6 & Ikelite housing by Phil Rudin
Laowa Venus 24mm by Jim Decker
Olympus TG6 & Ikelite by Phil Rudin
Equipment
My housing history by Pete Atkinson
Locations
Maldives Paradise by Michel Braunstein
Hidden Halmahera by Anita Verde
My Backyard Blue Heron Bridge by Bryant Turffs
Parting Shots 1, 2 & 3
by Oleg Gaponyuk, Adam Abdul Raheem and Arun Madisetti
You're not logged in! Just click the link below to login or to sign up for your free UwP magazine.
Please support our advertisers to keep UwP free.