Your FREE underwater photography magazine
You're not logged in! Just click the link below to login or to sign up for your free UwP magazine.
Login or sign up for free Back
UwP112 · Jan/Feb 2020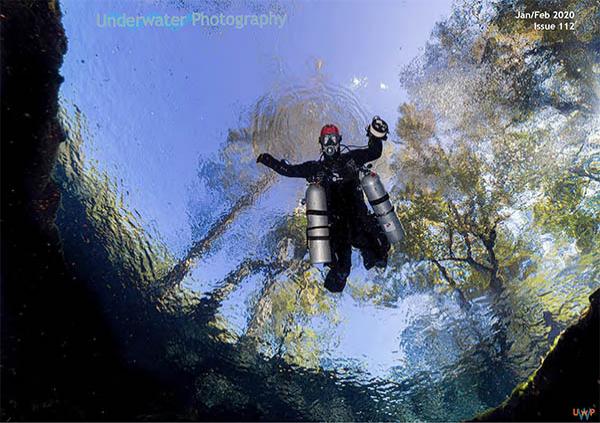 Editorial
Smartphones, Featured Product, Flashguns, Is it Photography?
News Travel & Events
Houston Underwater Film Festival
Ikelite Ambassador Elena Kalis
Tiger shark & Great Hammerhead Diving
Baja Mexico Dive Safari
Basking Shark Weeks
Land And Sea Photography Shootout With Scott Portelli
Frame And Focus On Saba
MantaFest
Photography with Fotografit & Lars Kirkegaard
Snorkeling with Sperm Whales in Dominica
New Products
Backscatter Mini Flash MF-1 & Optical Snoot OS-1
CineBags Underwater 2020 CB70 Square Grouper
Nauticam Wet Wide Lens For Compact Cameras (WWL-C)
Ikelite 200DLM/A Underwater Housing for Olympus OM-D E-M5 Mark III
Isotta Housing for Canon PowerShot G7X Mark III
UW Camera Store Maintenance, repairs and pressure tests
SeaFrogs Universal Vacuum System
UMI UMI UU-TG6 housing for TG-6 and TG-5 cameras
Isotta RED64 Strobe
Navatics MITO
Ikelite Canon PowerShot G7 X Mark III Compatibility
Ikelite DL3 DS Link Panasonic / Olympus TTL Converter
Sea & Sea MDXL-α7IV housing for Sony α7RIV
Anglerfish 4K monitor
DJI Osmo housing
Featured Product
Kraken Ball to Ball arm QD adaptor
Equipment reviews
Aquatica A7r1V pro by Phil Rudin
DiveVolk SeaTouch 3 Pro by Christian Baki
Smartphone housings by Peter Rowlands
FIX Under Warmer Vest by Peter Rowlands
Backscatter MiniFlash MF-1 by Phil Rudin
Chasing Dory by Peter Rowlands
Rokinon/Samyang 14mm by Phil Rudin
Photography
Uncommissionable by Pete Atkinson
Destinations
Papua New Guinea by Mike Bartick
Raja Ampat by Albert Kok
Dreamland or Homeland? by Lorenzo Buccio
Parting Shot
You're not logged in! Just click the link below to login or to sign up for your free UwP magazine.
Please support our advertisers to keep UwP free.