Your FREE underwater photography magazine
You're not logged in! Just click the link below to login or to sign up for your free UwP magazine.
Login or sign up for free Back
UwP106 · Jan/Feb 2019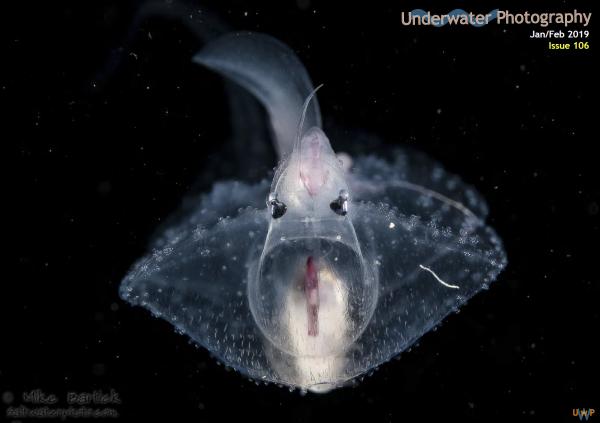 Editorial
2018
Parting Shot
Plastic response
Bob Halstead 1944 - 2108
News, Travel & Events
Tiger Beach Shark Trip, Bahamas 2019
Blackwater Safari style gathering
2019 Asia Divers Underwater Photography Workshop with Phil Rudin & Beth Watson
Lembeh Photo Workshop with Doug Sloss, Mike Veitch and Luca Vaime
UW Photography Tune-Ups in the Philippines
Underwater Photo Fun Week in Bali, Indonesia
Swim with Killer Whales/Orcas in Norway
Two Trips Back to Back! Halmahera to Raja Ampat
Reef Photo & Video's Lembeh Photo & Video Retreat
2019 Digital Shootout In Little Cayman
Macro workshop with Mike Bartick at Crystal Blue Dive Resort
Three Day Basking Shark & Wildlife Tours
Bonneville Seabase
Moalboal and Anda, Philippines with downunderpix
Sea Shepherd Operation Virus Hunter Major Victory for Wild Salmon and Orca Whales
Japan Announces End of Whaling in Southern Ocean Whale Sanctuary
Palau ban on sunscreen ingredients
New Products
Seaflex
Ikelite 200DL Housing for Canon EOS R Full Frame Mirrorless
Sea & Sea MDX-R housing for the Canon EOS R
The VideoRay Pro 5 has arrived!
Olympus TG-5 Super Macro Diver Kit
Sony AX700 with Gates housing and SP34A port
Nauticam NA-Z7 Housing for Nikon Z7 and Z6 Cameras
Ikelite 200DL Underwater Housing for Nikon Z6 & Z7 Full Frame Mirrorless cameras
Divevolk
Sola Nightsea Light
Fantasea Sony RX100 VI housing
Ikelite Anti-Reflection Ring for Nikon 18-55mm
Revolution 15000
Darkwater Vision
Aquatica LED Optical Flash Trigger for the Canon 5D series
Ikelite Trim Weight System for DSLR & Mirrorless Housings
Nauticam NA-R Housing for Canon EOS R Camera
INON Strobe Dome Filter ND
Mangrove Diffuser DD-A25-50
Hugyfot Vision Standalone Monitor
Sealux DOM 230F
Sea & Sea MDX-Z7/6 housing for Nikon Z7/6
FIX NEO PREMIUM 4030 DX II
SEACAM silver Panasonic GH 5
Forgotten WWII Warbirds of Kwajalein Atoll
2019 ja-universe calendar
Product Reviews
OrcaTorch D900V review by Kate Jonker
Canon EOS R and Ikelite 200DL housing by Phil Rudin
Nauticam WACP tech notes & observations by Kevin Palmer
Techniques
Blackwater bounty by Mike Bartick
Book Review
Lights! Camera! Sub Action! by Mike Sears
You're not logged in! Just click the link below to login or to sign up for your free UwP magazine.
Please support our advertisers to keep UwP free.