Your FREE underwater photography magazine
You're not logged in! Just click the link below to login or to sign up for your free UwP magazine.
Login or sign up for free Back
UwP100 · Jan/Feb 2018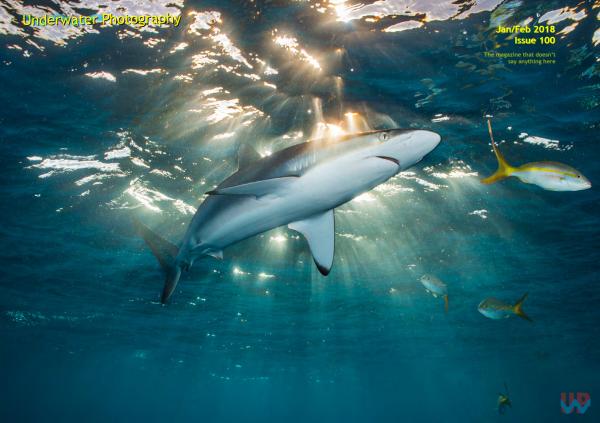 Editorial
2001 - 2018 by Peter Rowlands with guest Editors ...
Alex Mustard, Doug Perrine, Adam Hanlon, Steve Jones, Dan Bolt and Simon Brown
News Travel & Events
Snorkel with Humpback Whales, Tonga
Martyn Guess Anilao workshop
Lembeh Photo Workshop 2018
A Note from Captain Paul Watson
Bali Photo Workshop July 2018
Nature Photography of the Year
Nusa Island, Kavieng, PNG
Celebrate the Sea Festival, Manado, North Sulawesi
Swim with Whale Sharks & Giant Mantas, Mexico
Norway Photo Workshop
Blue Dolphin of Malta ICompetition
Why Wakatobi
New Products
Nauticam NA-G9 housing for Panasonic Lumix G9
Lume Cube
Mangrove MVHS-AX700 housing
Nauticam SMC-2
Nauticam NA-A7RIII housing for Sony a7R III
Inon Z-330: Available to pre-order
Ikelite 200DL housing for Canon EOS 6D Mark II
Olympus TG-5 Camera, Housing & RingLight Macro Package
Dive and See
DNC-5A monitor
Aquatica housing for the Nikon D850
Sea & Sea MDX-D850 housing
for the Nikon D850
UCL-90 M67/UCL-90 LD INON Close-up Lens
Acquapazza APSO-A73 housing
for the Sony ILCE-7RM3
Weefine ring light 3000
Outex launches clear universal housing
Subal GH5 for Panasonic Lumix GH5
Dive+ app
Quickly fix scuba pictures with LAND & SEA SCUBA
Galápagos by Josef Litt
2018 Calendar by Jeremy & Amanda Cuff
Basking Shark T-Shirt
Equipment Reviews
Dome free by Alex Mustard
Acquapazza APPO-GH5 by Peter Rowlands
Ikelite Olympus TG-5 by Phil Rudin
Lume cube by Dan Bolt
Inon Z-330 review by Phil Rudin
Canon to Nikon by Tony Wu
Marine Biology
Coral bleaching by Dr Tom Bridge
Locations
Only one dive site by Helen Brierley
Galapagos Orcas by Ron Watkins
Guam's preserves by Tim Rock
Southwest Ramblings 23 by Mark Webster
Parting Shot by Tom Burd
You're not logged in! Just click the link below to login or to sign up for your free UwP magazine.
Please support our advertisers to keep UwP free.