Your FREE underwater photography magazine
Underwater Photography Magazine
UwP is published every two months and every great issue is packed with all the latest underwater photo equipment news, reviews, dive site reports, personality profiles and photo portfolios, plus tips for better pictures, making it the essential read for all underwater photographers, everywhere.
You're not logged in! Just click the link below to login or to sign up for your free UwP magazine.
UwP116 · Sept/Oct 2020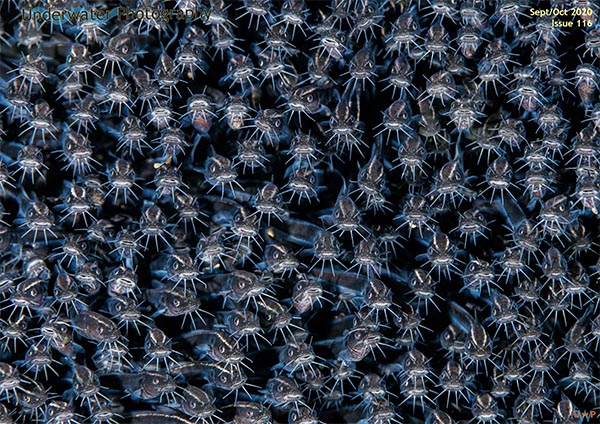 Editorial
UK tuna & UPY, My Backyard (again), UP the past, UPY's crunchy bits
News Travel & Events
Basking Sharks
Sea Shepherd Attacked in Vaquita Refuge
Striped Marlin Baja Mexico Dive Safari
Tiger shark & Great Hammerhead Live Aboard
Orca Norway, November 2020
Wetpixel Live
New Products
Ikelite housing for Sony ZV-1
TURTLE SMART 2020
Isotta housing for Nikon D780
Light and Motion Double Dive 2X 15K Kit (Flat Port)
UWCameraStore Fiber snoot Pro dual for Retra Flash Pro
INON SD Front Mask for HERO5/6/7
Qysea Fifish V6
Ikelite housing for Canon EOS R5
Subal BM4K Housing for Black Magic 4K
Hydra-3500
SL-101 LED Video Fill Light
UWCameraStore Fiber snoot Pro dual for Backscatter MF-1
Canon G7X III Camera & Ikelite 60m Housing Package
Chasing M2 Underwater Drone / ROV
Wakatobi - Conservation. In depth by Wade and Robyn Hughes
Marine Plants of Australia By John M. Huisman
Product Reviews
Ikelite Canon SL3 by Phil Rudin/Roman Stockhousen
Nauticam Nikon Z5 by Tony Land
Sony RX100 VII by Jim Decker
Rokinon 24mm F2.8 by Phil Rudin
Weird lenses by the Backscatter team
Competitions
Dive into the Pink winners by Allison Vitsky Sallmon
UPY's crunchy bits by Laura Storm & Mark Harris
Techniques
WAM conversion lenses by Mike Bartick
How to be a good model by Tony Land
Locations
Pat Baker's uw museum by Pat Baker
My Shots
by John Huisman
Parting Shots
by Michel Braunstein and Augusto Salgado
'UP3' supplement
by Peter Rowlands
You're not logged in! Just click the link below to login or to sign up for your free UwP magazine.
Please support our advertisers to keep UwP free.